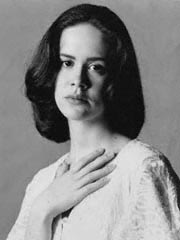 Merlyn Ann Temple witnessed her mother Judith's rape by Lucas Buck as a child (Pilot), which left her traumatized and unable to communicate. After her death at Lucas' hands, she returns to protect her brother Caleb, and take revenge on Lucas. After Caleb brings her back from wherever she was trapped in Resurrector, she truly is back with a vengeance, but is defeated by Lucas in Inhumanitas - "The body dies, but the spirit moves on." She goes overboard with her try to get at Lucas by punishing those who make deals with him in Plague Sower, but comes to her senses again after Caleb tells her to "love all of them". Instead, she tries to open the eyes of those close to Lucas but not fully under his spell - Ben (Echo of Your Last Goodbye) and Gail (Triangle). In the end (Requiem), she makes the last sacrifice to help free Caleb from the Rage... or does she?
Sarah Paulson has a very expressive face, which enabled her to convey Merlyn's feelings easily, from her innocence, through her joy and fear, to her helplessness, anger and ruthlessness. This guardian angel is clearly still very human!
Some favourite Merlyn quotes:
"Someone's at the door." (Pilot - the obvious one)
"I did it Caleb. I told ya I would." (Rebirth)
"Caleb may be born from your genes but you'll never raise him... because I have come for you!" (Inhumanitas)
"You did real good, Ben. My mama would have been proud of you." (Echo of Your Last Goodbye)
"So it's me you want. All right then. Go on Caleb, I'll be all right." (Strangler)
"You know you shouldn't really ignore the dead. Sometimes they're just not as dead as you think." (Requiem)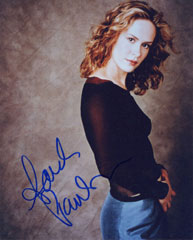 was born on December 17th, 1975 in Tampa, Florida, but grew up in New York and Maine. Sarah attended the American Academy of Dramatic Arts and the High School for Performing Arts in New York. Her first major TV role was on Friends at Last, and she had guest roles on Law & Order and Touched by an Angel. On the big screen, Sarah appeared in Levitation, The Other Sister, and What Women Want. IMDB lists her among the cast of a movie called Down With Love, along with Ewan McGregor and Renée Zellweger. (Shooting is listed to start in May 2002). Currently, Sarah is starring in the new TV series Leap of Faith.
You can contact Sarah at (unverified):
International Creative Management Inc.
8942 Wilshire Boulevard
Beverly Hills, CA 90211
USA