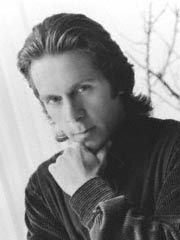 is Trinity's Sheriff. But who - or what - is hiding behind the handsome façade of the charming man with the star, who seems to know everything and to whom almost every citizen in Trinity is indebted? A fallen angel? The devil's close friend? Evil Incarnate? A man who made a pact with a demon? Or just a (hu)man with supernatural powers? The possibilities and discussions are endless. We only know for sure that "The body dies, but the spirit moves on," as was proven in Inhumanitas, The Buck Stops Here and Requiem. Lucas is Caleb Temple's real father, and despite the efforts of Dr. Matt, Merly, Gail, and Loris, he manages to teach his son some of his "lessons" now and then. Lucas rules his town with an iron hand, though by the time of the Pilot, he seems to have become somewhat complacent. But by the end of Strong Arm of the Law, he has clearly re-established who's boss in Trinity.
Gary Cole clearly had a whale of a time portraying Lucas Buck. He induced such charm and (wicked) humor into the evil Sheriff that few viewers can help liking him. Not to mention the ravings about his vests, shirts, black jeans, dusters, and perfect hair... A Gothnik once said that it was "the perfect combination of role with actor, at the perfect age and stage in his career", and the term "sex on legs" also pops up now and then.
Some favourite Lucas quotes:
"All guilt is relative, loyalty counts... and never let your conscience be your guide." (Pilot)
"The beauty of a small town like Trinity is that we take care of our own." (Eye of the Beholder)
"Son, nobody makes anbody do anything they don't wanna do in the first place." (Dead to the World)
"I mean, I had a hand in certain... things. But everybody's got free will. I just give 'em enough rope to hang themselves." (Potato Boy)
"These things have a thousand uses." (Strong Arm of the Law - THE classic!)
"If you want to hurt me, you did. If you're upset about Gail being pregnant, I'm sorry. And if you ever soil my house again, I'll cut out your heart and use it for a chamois." (The Buck Stops Here)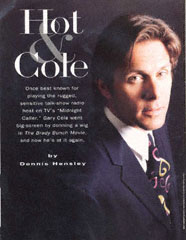 was born September 20th, 1956 in Park Ridge, Illinois. Most people will recognize him from the 1980s hit series Midnight Caller. Gary is a busy man, with many appearances in movies (The Gift, In the Line of Fire, A Simple Plan, the two Brady Bunch movies etc.), TV (The Practice, Fatal Vision, Kiss the Sky etc.), and on stage - his last appearance to date was in summer 2001 as Pat Garret in The Collected Works of Billy the Kid at the La Jolla Playhouse, La Jolla, CA. Gary is a co-founder of the Remains Theatre Ensemble in Chicago, and also a member of the highly-acclaimed Steppenwolf Theatre, along with other prominent actors like John Malkovich, Martha Plimpton, Gary Sinise, and last but not least, Jeff Perry (Artie Healy in The Beast Within). Gary lives with his wife, actress Teddi Siddall, and their daughter in Los Angeles.
Write to Gary at the following address (unverified):
International Creative Management Inc.
8942 Wilshire Boulevard
Beverly Hills, CA 90211
USA