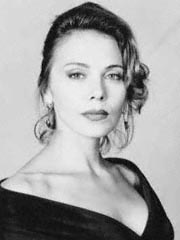 Teacher by day, seductress by night - that's the description that first comes to mind. But it doesn't do Selena Coombs justice by far, because she's much more complex than that. As we find out in Potato Boy, she's Reverend Coombs' daughter, but for some unknown reason he cast her out, and won't accept any of her attempts to make up with him. Selena's relationship with Lucas clearly goes back a long way, and although she seems to be the weaker of the two, I guess you could describe their relationship as a co-dependency. This becomes very evident in the infamous kitchen scene in Inhumanitas. Selena knows Lucas like no one else does, and knows how to handle him - no pun intended ;-) - even when he's out of control.
Brenda Bakke plays Selena with a feline quality, all but breathing and purring her lines. This aspect is emphasized by the leopard prints she often wears, and her yellow Corvette. But Selena's vulnerable, insecure side comes across just as believably. Gary Cole and Brenda Bakke reportedly had the theory that Selena was Lucas' half-sister, which would shed a whole new light on their relationship...
Some favourite Selena quotes:
"Rack your balls?" (Pilot)
"Oh, doctor, I'm so sorry! Oh, I had no idea..." (A Tree Grows in Trinity)
"I've got... RC's... uh, moon pies, half a mouth of muffaletta, the heads of some students from last year... Just kiddin'." (Potato Boy)
"Well then the next time the mood strikes, I'd suggest you reach for yourself." (Meet the Beetles)
"I've seen you cruising around in the Buckmobile, honey, and truly I don't mind. There's just a part of me that likes to tell the little lambs before the slaughter." (Ring of Fire)
"See you cliffside, Gail." (Triangle)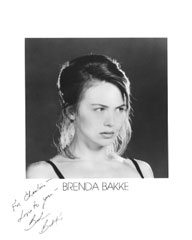 was born on May 15, 1963 in Klamath Falls, Oregon, and raised in Portland. She started her stage career in Oregon at the age of 15, in a production of Years Ago at the Sunset Theater. After leaving Oregon at 18, Brenda went on to study for three years at the American Academy of Dramatic Arts in Los Angeles. Her first screen appearance was in Last Resort in 1986. Trekkies will remember her appearance as Rivan in the Star Trek: The Next Generation episode Justice. Another memorable and hilarious appearance was in Hot Shots Part Deux, in a spoof of Sharon Stone's Basic Instinct role. Recent guest appearances on TV include Charmed, Dark Angel, and CSI: Crime Scene Investigation.
You can write Brenda at (verified, current as of July 2002):
12754 Sarah Street
Studio City, CA 91604
USA