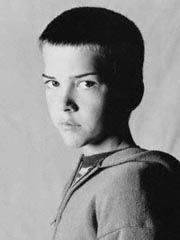 Caleb Gage Temple certainly doesn't have it easy at the beginning of the series, living with a catatonic sister and an alcoholic father. A tiny photo is all to remind him of his mother, who jumped (or, depending on who you ask, was pushed) out of the window of her hospital room after his birth. It is only after his 10th birthday that Caleb finds out a few secrets about his family and himself - one of which is that Lucas Buck is his real father. Although the now-ghostly Merlyn, Gail, Loris, and Dr. Matt try to keep him on the straight and narrow, Caleb finds himself giving in to Lucas' temptations ever more often. And by the end of the series, he truly proves himself to be his father's son...
Young Lucas Black proved a treasure trove for American Gothic. His portrayal of Caleb was nothing short of amazing. Not many child actors would have been able to cover the whole spectrum required by this role: from a child's innocence to Rage-filled emotional coldness and aggression, with countless nuances in between.
A few favourite Caleb quotes:
"I'll paddle my way to hell and back to get away from that Sheriff." (A Tree Grows in Trinity)
"Is that what Yankees eat at parties?" (Eye of the Beholder)
"Are you Sheriff Buck's girlfriend? 'cause if you are I want you to ask him, why he wants me to go live at his house. What's he tryin' to do, start some scout troop?" (Potato Boy)
"You talkin' as the head of the civil defence?" (Plague Sower)
"My daddy sent me." (The Buck Stops Here)
"I'm tired of your preachin'. Tired of your white dress. And I don't want to see you no more. So why don't you just go somewhere and decompose?" (Requiem)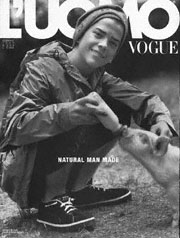 was born in Alabama on November 29th, 1982. He graduated from High School in May 2001. Lucas loves fishing and would love to become a professional bass fisherman. Other hobbies include bow-hunting, and various sports. Lucas' first apperance on film was in 1994's The War, alongside of Elijah Wood (of Lord of the Ring fame). American Gothic was the start of a successful acting career for Lucas, with hit movies like Sling Blade, Flash, The X-Files, Crazy in Alabama, and All the Pretty Horses. He has also done some modeling for Calvin Cline and L'Uomo Vogue.
Contact Lucas at (unverified):
Agency for the Performing Arts
9200 Sunset Blvd. #900
Los Angeles, CA 90069
USA