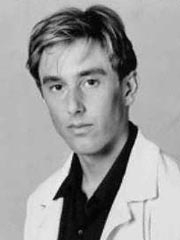 "Yankee blueblood, Harvard Med... Came to town last fall, been causing trouble ever since." This is Lucas' characterization of Matt in the Pilot. Dr. Matt Crower came to Trinity after his wife and daughter had been killed in an accident he'd caused driving drunk in 1993 (2 or 3 years prior to the episode To Hell and Back). As we can see in Potato Boy, he is still fighting his inner demons, and all but admits to Reverend Coombs that he hates himself. Despite his own problems, Dr. Matt tries to be there for Caleb as best as he can, and he's a very important figure in the boy's life. This is quite significantly shown by the fact that Lucas' major breakthrough with Caleb is in Learning to Crawl - after Dr. Matt was committed to Juniper House.
Jake Weber gave Dr. Matt a very vulnerable quality - and it was just that which made him the perfect adversary for Lucas Buck: Matt had nothing to lose. Even though at first glance Lucas seems to have the upper hand, Matt manages to get his own back now and then. Two of my favorite Matt/Lucas scenes were in The Beast Within: first when they are working together, for once, trying to lull Artie in enough so Matt could sedate him, and then when Matt slugs Lucas and moments later finds himself on the floor from the impact of Lucas' response. :-)
Some favourite Dr. Matt quotes:
"Sheriff? Drive safely." (Pilot)
"You don't think that you were capable of hating with such intensity... such energy. It's a... it's an anger and a... and a loathing of almost religious vigor." (Potato Boy)
"Well these aren't old Indian bones, Sheriff. They're from someone recently deceased and dumped out at the old Temple place. Excuse me - the new Buck place." (Meet the Beetles)
"I'm not so sure anymore. Maybe I should check you , Sheriff. Have a look at that achilles heel of yours?" (Strong Arm o fthe Law)
"You don't know anything about my demons." (To Hell and Back)
"People'll turn their backs on you... they'll resist. You'll be stopped. You'll be stopped!" (Dr. Death Takes a Holiday - Dr. Matt's very last lines *sniff*)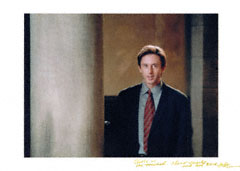 was born on March 12, 1963 (or '64, depending on the source) in London, England. He was a student of pioneer pro-educational Summerhill school in Leiston, Suffolk, before moving to the US with his family. In 1986 Jake majored cum laude in Political Science and English Litearture at Middlebury College, Vermont. Jake was busy on New York stages, both on and off Broadway, and perfected his skills at Juilliard and the renowned Moscow Art Theatre. His first appearances in film were in 1989, in Born on the Fourth of July and Identity Crisis. Jake can also be seen in movies like Dangerous Beauty, Into My Heart, Pushing Tin, Cherry, U-571 and The Cell. Look out for him in Wendigo by indie writer/director Larry Fessenden, which has been spreading all over the US since its February/March 2002 opening in NYC and LA. International releases should follow later in the year, and a US DVD release is scheduled for October 2002. Jake's TV appearances include What the Deaf Man Heard, Law & Order, and Law & Order: Criminal Intent. In February 2002, he finished the world premiere run of Neal Bell's play Monster (based on Mary Shelley's book Frankenstein) at Classic Stage Company in New York City. Jake then went back to shoot the second season of HBO original series Mind of the Married Man.
You should be able to contact Jake at these addresses:


(Haven't been able to verify so far, though I know that as per autumn 2000, this address was current)

The Gersh Agency
Attn.: Bill Butler
130 West 42nd St. # 2400
New York, NY 10036
USA


(Again, haven't been able to verify)

Artists Management Group
Artists Television Group division
9465 Wilshire Blvd.
Beverly Hills, CA 90212
USA