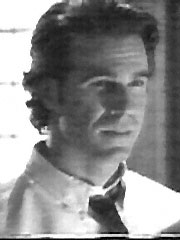 Billy Peele makes quite the first impression as he introduces himself to Lucas Buck in Plague Sower. He is a specialist from the CDC (Center for Disease Control) and was called in to find what caused the strange plague in Trinity. He ends up staying when Dr. Matt is committed to Juniper House. Billy is aware of Selena's ties to Lucas, but even though he characterizes himself as the 'have plague, will travel' type, he eventually starts a relationship with her.
Dr. Billy Peele was conceived as Dr. Matt Crower's replacement, since CBS wanted a more 'physical' opponent for Lucas. John Mese didn't have an easy job, and some of the material given to him certainly wasn't helping to boost his popularity among fans, like the many 'soapey' elements (IMO) in the Selena/Billy storyline. Still, I think John Mese made the best of it. Favourite Billy moments were in Plague Sower, Learning to Crawl, and the final two episodes, The Buck Stops Here and Requiem.
A few favourite Billy quotes:
"Don't give yourself a brain hemhorrage." (Plague Sower)
"Yeah that was, um... one of the most interesting vaccinations I've ever given." (Dr. Death Takes a Holiday)
"Bags of groceries sittin' on the table, back door is open, it just kinda seemed to me like she had left in a little bit of a hurry." (Learning to Crawl)
"I keep hearin' what a terrible person Lucas is, but, uh... if he hired you..." (Echo of Your Last Goodbye)
"Pounding, is... is that bad?" (Triangle)"
"Hey, if I'd have known it meant that much to you, I would have left you down there." (Requiem)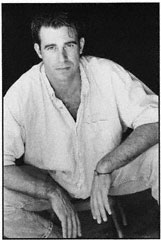 holds an MFA in acting from the School of Theatre at the Louisiana State University in Baton Rouge. He's been in such plays as Macbeth and Cat on a Hot Tin Roof. His movie credits include Winston by Stephen Soderbergh, Night of the Scarecrow and Red Dirt. John played astronaut John Eisele on HBO mini series From the Earth to the Moon and had guest roles in such diverse TV series as Matlock, Northern Exposure, Profiler, Sex and the City, The X-Files, and Nash Bridges. He is married to Paige Turco, who he met on the set of American Gothic.
You can contact John here (unverified):
Mitchell K. Stubbs & Associates
1450 S. Robertson Boulevard
Los Angeles, CA 90035
USA

Scan of the John Mese picture courtesy of Bob Russell - many thanks! :-)