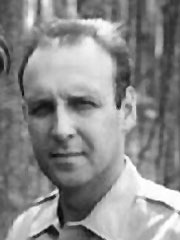 Ben is Lucas' Deputy and sidekick. As he explains to Dr. Matt in A Tree Grows in Trinity, Ben went to Georgia after high school and ran full back in the football team. But in junior year he blew his knee out, and in the same week his girlfriend got pregnant. (At the time the series starts, Ben is divorced and hardly ever sees his son, Ben Jr.) Lucas gave him a job and paid for his wedding, so Ben is very grateful and loyal to him - but also frightened. In the Pilot, Ben witnesses how Lucas kills Merly, but he doesn't dare to do anything about it for a long time. Over the course of the 22 episodes, we see him starting to get a backbone and stand up to Lucas, especially after he got a little 'ghostly push' in Echo of Your Last Goodbye...
It is thanks to Nick Searcy's brilliant performance that Ben Healy wasn't killed off after a few episodes. He added depth to the hapless deputy and made him very likeable. His chemistry with Gary Cole was great, the Lucas/Ben scenes really gave the impression of them going back a ways, and the same with Brenda Bakke/Selena.
Some favourite Ben quotes:
"Uh, Lucas... she's Caleb's cousin." (Pilot)
"All right. Now we can either talk, or you can try hit me again." (Dead to the World)
"Every mornin' when I wake up, my guts are tied up in a knot. While I'm shavin'... I wonder what it'd be like just to... slash my face open, so I wouldn't have to go to work that day. Then I wonder what it'd be like t... to slash his face." (Potato Boy)
"You know what the irony in all this is? He always told me that I couldn't save him." (The Beast Within)
"I can't look the other way anymore Lucas. If I see somethin' that bothers me, I'm gonna speak up about it." (Echo of Your Last Goodbye)
"I don't know how this town is goin' to function without you. To tell you the truth... I don't know how I am either." (The Buck Stops Here)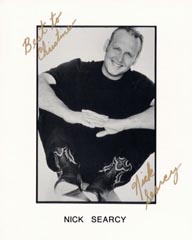 was born in Cullowhee, North Carolina. He attended the North Carolina School of Arts, and graduated from the University of North Carolina at Chapel Hill. He has appeared in several off-Broadway plays, and at regional theatres in productions including Guys and Dolls, Cabaret and Jesus Christ Superstar. Nick has appeared in a wide variety of film and TV roles, including Days of Thunder, Fried Green Tomatoes, The Fugitive, Nell, Nash Bridges, Cast Away, and From the Earth to the Moon. He also was a regular on TV series Seven Days. In 1997 he produced, directed and acted in his first independent feature Paradise Falls. In 2001 Nick filmed Double Teamed, a Disney Channel movie about high school girls' basketball. Nick is married to actress Leslie Riley and they have a daughter, Chloe.
You can contact Nick at the following address (verified, current as of January 2002):
Abrams Artists
9200 Sunset Blvd, 11th Fl.
Los Angeles, CA 90069
USA