"I want to hold something, I want to be held." Merlyn to Caleb.
"You turned your life over to me" Lucas Buck to Ray the biker boy.
"He's trying to poison you against me. That's what he does. His power comes from spoiling things." Merlyn speaking to Caleb.
Merlyn is unhappy. She didn't have much of a life before Lucas killed her and the afterlife is like being underwater, she can't touch anything or be touched. When Gail's friend Christy comes to visit, Merlyn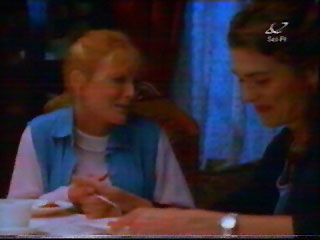 "borrows" the life of her unborn child and comes back to life. Caleb is glad to see her at first but she falls in love with Ray and spends more time with him than with Caleb.
Ray, unfortunately, works for Lucas. When Lucas stops them for speeding on Ray's motorcycle, he realizes that Merlyn likes Ray. He decides to use Ray in an attempt to get Merlyn to stay alive and let the baby die.
Lucas also tries to turn Caleb against Merlyn. While Merlyn is waiting for Ray to come pick her up, she and Caleb have an argument. He tells her that Lucas says she's a liar and she's upset that he might believe Lucas. She wants Caleb to be happy for her because she's going on a real date but he is mad that she won't tell him how she got here. Merlyn tells him that she just borrowed somebody for a while.
On their date, Ray gives Merlyn a rose and asks her to run away with him. They are to meet at midnight on Johnson Bridge. In the meantime, Caleb learns that Christy has gone into labor and that the baby may be dead. He realizes who it is that Merlyn has borrowed and goes to the hospital to tell Christy that everything will be okay.
Lucas visits Ray as he is packing and wants to know what is happening with him and Merlyn. Ray is evasive at first, then he asks Lucas to just let him and Merlyn leave town. Lucas tells him there is something he should see and takes him to the graveyard. He makes Ray dig up Merlyn's grave. When Ray opens the coffin, Merlyn's body is there and she is holding the rose he gave her. Lucas walks away whistling as Ray breaks down.
When Caleb tells Merlyn that Christy is in labor and that she is making a mistake, Merlyn says that she is in love and leaves to meet Ray. When Merlyn meets Ray on the bridge she tells him she has to go. He wants her to stay with him and tries to talk her out of leaving. When Merlyn continues to refuse, Ray morphs into Lucas. Merlyn asks Lucas what he did with Ray. Lucas tells her he left Ray down by her grave, "crying like a baby." He tries to convince her to live but she realizes what he is trying to do and knows that Caleb will turn against her if she lets the baby die. She begins running from Lucas, then climbs onto the bridge railing and jumps. As she dies the baby is born alive and well.